What you will do
The Botanical Boys welcome at Coal Drops Yard for this terrarium building workshop. You get to build a self-sustaining living garden in a 3 ltr glass jar topped with a natural cork lid to take home with you for displaying in your interior.
Once built, your garden will require very minimal maintanace and we will teach you all the necessary steps on how to build your garden layer by layer and how to care for it afterwards.
What is a Terrarium:
It's a miniature environment of living plants that thrive off moisture. You will learn the whys and how's for making a self contained living botanical environment.
What we provide:
History of terrariums
Layering and Planting techniques
Range of colourful plants and hard landscape materials and objects
Watering techniques
How to position your garden at home
Online aftercare advice
30 Day Plant Guarantee

Bag to take your garden home
** Vessel Upgrade Options for this class: https://botanicalboys.com/product-category/workshops/upgrades-masterclass/
Please note your class details in the checkout
Please Note that 1pm classes on Saturdays will be held in the Samsung Kings Cross Experience store. This is an open plan experience space also known as the kissing point designed by Heatherwick Studio's.
We look forward to hosting you and provide you and your friends with a mindful and creative event.
Love Plants, Love Life!
Select a class time
Wed 29 Jan 2020, 6:30pm - 8:30pm
Sat 1 Feb 2020, 1:00pm - 3:00pm
Sun 2 Feb 2020, 1:00pm - 3:00pm
Wed 5 Feb 2020, 6:30pm - 8:30pm
Sat 8 Feb 2020, 1:00pm - 3:00pm
Sun 9 Feb 2020, 1:00pm - 3:00pm
Wed 12 Feb 2020, 6:30pm - 8:30pm
Sat 15 Feb 2020, 1:00pm - 3:00pm
Sun 16 Feb 2020, 1:00pm - 3:00pm
Wed 19 Feb 2020, 6:30pm - 8:30pm
Sat 22 Feb 2020, 1:00pm - 3:00pm
Sun 23 Feb 2020, 1:00pm - 3:00pm
Wed 26 Feb 2020, 6:30pm - 8:30pm
Sat 29 Feb 2020, 1:00pm - 3:00pm
Wed 4 Mar 2020, 6:30am - 8:30pm
Sat 7 Mar 2020, 1:00pm - 3:00pm
Sun 8 Mar 2020, 1:00pm - 3:00pm
Wed 11 Mar 2020, 6:30pm - 8:30pm
Sat 14 Mar 2020, 1:00pm - 3:00pm
Wed 18 Mar 2020, 6:30pm - 8:30pm
Sat 21 Mar 2020, 1:00pm - 3:00pm
Wed 25 Mar 2020, 6:30pm - 8:30pm
Sat 28 Mar 2020, 1:00pm - 3:00pm
Sat 4 Apr 2020, 1:00pm - 3:00pm
Sat 11 Apr 2020, 1:00pm - 3:00pm
Sat 18 Apr 2020, 1:00pm - 3:00pm
Sat 25 Apr 2020, 1:00pm - 3:00pm
Sat 2 May 2020, 1:00pm - 3:00pm
Sat 9 May 2020, 1:00pm - 3:00pm
Sat 16 May 2020, 1:00pm - 3:00pm
Sat 23 May 2020, 1:00pm - 3:00pm
None of the dates work for you? Let the host know and you will be notified when new dates are added.
You will only receive an email from us if new dates are added for this class, you will not receive any marketing emails, and that's a promise!
Did you know?
Did you know, that by making a terrarium you will be helping to save a piece of Mother Nature.
Obby Guarantee
We ensure quality. If your class doesn't reach your expectations, we'll give your money back.
Such a great way to spend a cold winter's evening! The Botancial boys were perfect hosts and very knowledgable. Lots of great materials were made available and the prosecco was the perfect touch! Will definitely be signing up again!
I can't recommend this class enough. I'm a big obby fan and I have been to some great classes, but this has by far been my favourite experience. My sister and I were lucky enough to be the only ones in our session, and Darren and Ben made us feel so welcome in their studio. Darren's excellent reaching gave us the perfect amount of knowledge to confidently build a really unique terrarium each. There was a huge variety of materials for us to work with and we were told all about the fascinating history of the art of terrarium making. The prosecco was also a wonderful touch! The Eco-system jar we came away with was absolutely beautiful, I've already received so many compliments on it. Will definitely be creating some more! Thank you Botanical Boys!
Reviews
Such a great way to spend a cold winter's evening! The Botancial boys were perfect hosts and very knowledgable. Lots of great materials were made available and the prosecco was the perfect touch! Will definitely be signing up again!
I can't recommend this class enough. I'm a big obby fan and I have been to some great classes, but this has by far been my favourite experience. My sister and I were lucky enough to be the only ones in our session, and Darren and Ben made us feel so welcome in their studio. Darren's excellent reaching gave us the perfect amount of knowledge to confidently build a really unique terrarium each. There was a huge variety of materials for us to work with and we were told all about the fascinating history of the art of terrarium making. The prosecco was also a wonderful touch! The Eco-system jar we came away with was absolutely beautiful, I've already received so many compliments on it. Will definitely be creating some more! Thank you Botanical Boys!
This was a great way to spend a Friday evening. We not only got to build terrariums, but were also taught how to do it ourselves in the future. I'd definitely do more events with the Botanical Boys in the future 🙂
A wonderful relaxing afternoon with the botanical boys! Would highly recommend.
Amazing workshop in a gorgeous setting. I had so much fun whilst learning loads about plants and drinking prosecco....what's not to LOVE! would throughly recommend this class to anyone. So excited to have a self sufficient jar of nature coming home to live with me for years to come!
I had a great time and learnt loads about terrariums, I'm super keen to go again and I would recommend it to everyone
Had a thoroughly good time. Really liked that once you were taught the basics and shown what to do, the guys gave you plenty of time to do your own thing. Also amazing that a room of strangers felt like friends by the time I left.
This was beautiful one life experience workshop! Very welcoming and very good mentor Darren and Ben. Defenitely doing one again in mid August and Christmas
The class is very relaxing and the host very interesting. Our terrarium are now sitting proudly in our living room and we can't wait to have guests to show off a bit!
Darren and Ben were great. We loved the history lesson and the teaching. Taking home our terrarium we had huge smiles on our faces. Thanks Botanical boys!
I was happy with the terrarium we created during the workshop, and overall it was a good experience. I would have liked things to kick off a bit more quickly, though, with less of an introduction of the history of the workshop/brand, and also had a bit more conversation at the end about other techniques for making terrariums/materials and ideas for doing them at home.
Lovely class, lovely people! The perfect way to spent a slightly fragile Sunday.
Great evening. Really interesting to hear about the history and theory behind terrariums, and so much fun creating our own. They're in pride of place at home now. Darren and Ben were super helpful and friendly!
It was a great class, learnt a lot and came out with a fab terrium!! Highly recommend this class
Great class, insightful - the guys provided interesting history and tips. Fun to experiment with different materials and build something you can keep and watch grow As recommendation I think the particular space (a one off) didn't work and will definitly do another class with them at their own studio. Also it would be good to show different types of gardens you can make/ emulate as inspiration. Overall highly recommend though and I'll be coming back!
A fantastic and well run workshop! The Botanical Boys run the workshop in a fun and informative way and were very hospitable and friendly. Highly recommended!
I absolutely loved this workshop - the hosts were very welcoming and I had a glass of prosecco by my side mere minutes after walking through the door - and the teacher was extremely engaging and informative. I learned more than I had expected to, and the friendly and relaxed atmosphere meant that I got chatting to people around me, so despite coming alone, it was nice and sociable. Super fun, and I love my terrarium! I made 3 more for Christmas presents!
Was such a great day thankyou!
Wonderful experience. Great teachers, lovely space, very pleased with our creations!
Absolutely loved the finished product, great to come away with something you've made yourself and to get creative!
Such great fun ! Me and my mom had a blast !
Fab workshop as always. Have now had two masterclasses with them and I would highly recommend.
Absolutely wonderful class! very relaxing, satisfying the space is gorgeous and you get to take 3l terrarium home. My class was held by Adam (I am sorry if I got the name wrong) he was very friendly, funny and knowledgable! Excellent! I'll be taking this class again 👍
Amazing - great hosts, very interesting and entertaining at the same time, and catered for a whole variety of ages! Prosecco was generously served too which is always a bonus! Many thanks
It was very interesting and the teacher was very nice and funny. Love my new mini ecosystem.
Awesome! Thanks guys. Great class for anyone who fancies learning more about terrariums and getting their hands dirty. :-)
Great workshop resulting in some lovely terrariums!
Great workshop. Worth every penny. I had fun making my terrarium and learning about where they started and how to keep them alive. Also love the fact they guarantee the plants just in case you have any issues
The terrarium workshop was very well taught and thoroughly enjoyable! I would highly recommend it
Brilliant workshop. Very informative and had lots of fun. Shout out to the prosecco & Darren for a great afternoon!
Fun workshop. Quite proud of my creation :-)
Absolutely inspiring and fun. Darren was a legend and super knowledgable. I appreciated his combination of history and education, as well as practical daily tips. Thank you!
I really enjoyed the informative and relaxing Terrarium Masterclass. The Botanical Boys are really friendly and I love my first terrarium :-) Thank you
I absolutely loved this class! It was a lot of fun and really therapeutic, and my terrarium came out absolutely awesome! The guys are very knowledgeable and the space they use for the workshop is gorgeous, it looks like a greenhouse! I'll definitely do one of their other classes :)
It's not every class that lets you create your very own world! I loved every second of this class. Darren and Ben were very welcoming and told us just enough about the history of terrariums and gave lots of inspiration on how to create our own. My jar is thriving and I've been telling everyone how much I loved this.
I gave this to someone as a Christmas present and had a great time making two lovely Terrariums. It was very informational but also relaxing and we were very well received by the Botanical Boys, I would definitely recommend this.
Really fun afternoon and a bautiful terrarium to take home!
We had a fantastic evening with the Botanical Boys learning about and building our own terrariums. Amazing working space with so much inspiration from the terrariums around the room and expert advice from the boys. Loved it and think everyone should try it, it's so relaxing and you have a beautiful unique ecosystem at the end. Thank you boys :)
Absolutely amazing evening! The guys were so informative, fun and friendly and let us bombard them with plant related questions. Have recommended this workshop to everyone who will listen to me!!!
So friendly and helpful! I had a great time and brought away a beautiful terrarium
Really fun class and good selection of materials!
This was such an educational and therapeutic session. I learnt so much and it was such a relaxed atmosphere creating, planting and sipping prosecco! Can't wait to do another!
This workshop was wonderful. The boys are very welcoming and the class itself is both informative and enjoyable. The quality of the materials provided was also very good. We found the experience incredibly relaxing and loved having our terrariums to take home at the end of it. Thoroughly recommend.
Amazing! I had a really good time and left with a beautiful terrarium. Defiantly worth a visit.
SO MUCH FUN! This was our first obby experience and what a great one it was - it was informative, friendly, fun, and we came away with sonething which will hopefully last a good long time. Just the two of us in the class, and Darren and Ben were fab. Loved it and would fully recommend - even my boyfriend, who is not normally the creative type, said it was the best Friday night he'd had in years!
The Terrarium making class was excellent. Darren and Ben were great fun and we really learnt a lot. I would highly recommend the class to anyone, and the product we came away with looks great in our home.
The terrariums workshop was really enjoyable. Darren gave us a lot of information about the history and the techniques around terrariums. The space was beautiful and the atmosphere was very pleasant. Would recommend to anyone wanting to disconnect from the rush of everyday life!
I could not have picked a better class as my first Obby booking. Darren and Ben are exceptional; so friendly, welcoming and knowledgeable. The entire experience was fun, educational, relaxing, artistic, creative; we loved every second of it! Highly, highly recommended; I'm telling everyone about it!
What a fantastic way to spend a few hours. The Botanical Boys were excellent hosts welcoming us into their home. Some people may feel uncomfortable with this but for us this made the experience more personal and relaxed . Being in a small group meant that there was great opportunity for interaction between the boys and guests. It was educational, fun and very therapeutic and best of all we came away with our own terrarium creations. No previous experience or creative talent required just go with the flow. This was booked as a birthday surprise. I'm definitely going again with my friends as my enthusing has been contagious. I highly recommend the Botanical Boys experience.
We had a magnificent time at the workshop. I was really worried that I wouldn't be any "good", but we were led through the process and came away with terrariums that we love. Very therapeutic!
I can thoroughly recommend this workshop - the venue is amazing (what décor!) and you are offered so much help and guidance to make a beautiful terrarium. The time was very calm and relaxing - I left feeling very zen!
I really enjoyed the workshop. It was two hours of inner stillness, creativity, life and also great pieces of information regarding Terrariums. Loved it.
Darren and Ben were so friendly and welcoming into their beautifully decorated flat in east London. Darren was so knowledgeable and extremely patient when guiding us through the steps. I am not typically a creative person but I found it really inspiring and actually left with a terrarium I was proud of. Would strongly recommend going as it really was a relaxing and enjoyable couple of hours with endless glasses of prosecco and a terrarium that you get to take home, what more could you want!!
Darren was a gorgeous host with lot of experience! I can absolutely recommend this course to everybody who is interested in plants and terrarium! Very professional course in a lovely location.
This class was so much fun - Darren is fantastic as is his apartment Came away with a brilliant product - highly recommend Rosie
Loved that we learnt some history and background to terrarium making and that little skill is needed to achieve something. I'm inspired to keep doing it and will 100% recommend the class to others + it's perfect for a corporate activity. Really great class!
what a relaxing experience!
We had a really great time at this class. Ben and Darren were lovely and made the experience fantastic - great hosts and lots of knowledge. I would definitely recommend doing this class and will be booking again!
Great session! Going again for sure!
Darren & Ben were the perfect hosts, teachers - they have a beautiful studio/home. The class was chilled, educational and the perfect birthday present for my best friend. The quality of the plants, materials + teaching, the amazing terrarium vase you take home with you was way beyond expectations!
Great workshop! So much fun, ended up with a fab terrarium to take home and learned a lot too. We've tried other workshops were everything is very 'measured' - it says's one glass of prosecco, so you get one glass, class finishing on the exact time. But here class overran by 45 minutes because everyone were having so much fun and wanted to take photos etc in the end, everyone got several fill ups on prosecco, no limit on how many plants or items you wanted in your terrarium. Ben and Darren knows a lot about plants, have a lovely home/studio and created a really friendly and relaxed atmosphere. Would highly recommend the Botanical Boys to anyone who wants to try something new!
We had a great time making our terrariums with Darren from Botanical Boys. He was very knowledgeable, telling us the history behind them and talking us through each step of making the terrarium. There was a great choice of materials for us to make them unique, and the prosecco was great too! Would highly recommend this class :)
This class was great, amazing setting to hold such a creative workshop and am delighted with my new terrarium!
Super workshop in a cool studio. Botanical Boys are friendly and great teachers. Learnt a lot, and had a lovely gift to take home.
Incredible evening making terrariums, full of laughs and insights and couldn't be happier. Don't miss out!
Fullfilling and beautiful workshop in their special home. Beautiful terrariums and we learnt a lot! Thank you very much
Such a great atmosphere and wonderful hosts. Really happy with my terrarium and to be able to bring it home with me.
I loved this class, it was so much fun. We learnt about the history of terraniums and how to make the base layers. Thereafter we had the freedom to make our design using a number of materials supplied that we could choose from. I highly recommend this class!
Excellent workshop! Great materials provided - especially liked the glass terrarium.
Really fun and informative workshop - The Botanical Boys are really friendly!
So therapeutic and I really enjoyed the class.now have a beautiful terrarium in my home
This was an amazing night. I went with my partner and it was great to be creative and relaxed! I am excited to give out terrarium's as Christmas gifts- and I am hoping my partner books us in for another class so I can have one too!
Brilliant experience within a very personal setting, suitable for the class. Thank you for the education and history lesson as well : ) I will denitley be recommending and also be back!
What a great workshop! Filled with so much knowledge, history, tips and tricks. Absolutely love the take-home terrarium - can't wait to show it off. Thank you Darren and Ben!
The class was brilliant in a beautiful location. I really enjoyed putting together my terrarium (and enjoying a glass of fizz) and it now has pride of place in my living room! Thank you!
A nice way to be in touch with nature in the middle of your busy city day. Really enjoy making my own terrarium while learning about the history and tips to take care of it. The studio is amazing - surrounded by plants and terrariums, you would forget that you're in London!
I've never made a terrarium before but I've always admired them. Creating one with the botanical boys was the most relaxing and therapeutic thing I've ever done. The environment and the music along with the tea & Prosecco really added to the whole experience and made it feel magical. I highly recommend this workshop. You won't regret it.
Ben and Darren were both fantastic! A wonderful, fun and relaxing class in their beautiful home. Will be strongly recommending to everyone I know, it was so much better than I could have ever expected and my Mother had the best birthday gift experience! Thank you Botanical Boys!
I was part of a group of three that attended the masterclass as part of my friend's birthday. We had such an amazing time - the class was informative, fun, hands on and exciting! I really liked how the designs were freeform - it was good to create something unique, rather than follow a template, so I felt like I truly created something for myself.
This was so much fun! The guys were very friendly and informative, the atmosphere was relaxed and the music was very much 80s (which was great). We had everything we needed to get on and make our own terrariums, even had a few little surprises to make our terrariums truly our own. I think I will definitely be doing some more classes
It was a great class and I really enjoyed making my own terrarium. I would only suggest to look at lighting of the studio as was a bit dark for me everything else was fantastic.
I would highly recommend this course. Darren is fab and see his wonderful work shop in dalston is something out of a movie. With terraniums and plants, you name it growing here there and everywhere in his living room. We went on a friday evening with limited previous knowledge of the plant world and have opened up a door to a fabulous area of wildlife which we wish to explore in more depth. Having had our quick but comprehensive history of the terrabijms we were into the making. With plenty of inspiration around we started to create our eco systems. Great course and thoroughly enjoyed myself. Thank you Darren
A five star experience!!! I had an afternoon right out of the top drawer. Thank you Botanical Boys !
Really great workshop and a perfect way to spend a Sunday!
Fantastic way to spend a few hours! Set in a lush oasis in East London! Very relaxing and creative experience. Highly enjoyable and would definitely recommend! So so pleased with finished product.
I had a fantastic class with Darren who was an excellent teacher and explained so much about terrariums (including the history, the various components etc). He was patient and funny, and I really enjoyed the class. The studio is so gorgeous with many other terrariums (I ended up asking to buy one of them and took it home with me!!!). He also very helpfully explained in great detail every part of my terrarium and the proper aftercare. I'll be spreading the word about this class to everyone. Highly recommend.
We really enjoyed this class! It was a peaceful way to spend an evening and the Terrariums we produced were lovely to take home.
A lovely afternoon and the outcome was definitely worth it, have already recommended to friends.
Botanical Boys was the perfect Sunday afternoon activity! We had a great time and the instructors were very friendly!
Botanical Boys. From the moment we walked in the guys were extremely welcoming. We booked the master class, 2 hour session. We had a brief history of how terrariums started which was extremely interesting. With prosecco in one hand and mud in the other, it wasn't your average Saturday but connected us with nature and gardening on a small scale. I can't recommend this enough, i just want to keep making them.
Really relaxing couple of hours. Learnt a lot about terrariums and their history, and ended up with some great terrariums to bring home. Would recommend!
Good fun, and came home with a lovely terrarium.
Absolutely loved this masterclass! Darren was very knowledgeable and explained each process carefully so we could understand. I went home with my amazing terrarium and a full understanding of how to look after it 😀
I had such a good time at the Terrarium Masterclass! The boys were so lovely and they gave a really interesting history of terrariums. There was loads of plants and accessories to choose from, and the whole experience was really relaxing and creative. Would definitely recommend!
Brilliant workshop! Really wonderful environment, fantastic friendly team welcoming us and making the whole session very interactive and fun. They were so accommodating with our baby! Would recommend to anyone.
We had a wonderful time with the Botanical Boys on Sunday. Not only did we get to make the lovely terrariums, there was also a history lesson, tips on how to look after the terrarium - and prosecco! Highly recommended.
We had such a lovely time with the Botanical Boys. Warm welcome, great atmosphere, delicious bubbly ans so much fun while building your own terrarium. The guys have amazing knowledge about plants and it was great to get to know the history behind the terrariums. Highly recommended and I definitely would love to return either for private or corporate event.
Really great class. My friend and I were the only two which was a nice surprise - lovely teacher, so knowledgeable. We were also given prosecco. Great evening and our terrariums are beautiful.
Fantastic afternoon!
Great time making the terrarium - the botanical boys were welcoming, friendly and great teaches! I would highly recommend the course, and my terrarium is looking excellent!
We had no idea what to expect but Prune, myself and 'mum' had such a great time with Adam. Mixing a little bit of history, teaching and fun. All three of us are super happy with our terrariums and we will be recommending these masterclasses to friends and family . Great idea for a birthday present: original, fun and beautiful. Big plus for me is that this terrarium will spark a conversation next time friends come over ;)
Amazing workshop and excellent customer service!!
We had a great evening with a friendly instructor. Everything was good quality and we love our new terrariums.
Adam led this interesting and fun workshop expertly in a beautiful home in Dalston. He talked us through the different stages and we came away with masterpieces! All this along with bubbles and a fab soundtrack. Thanks Botanical Boys.
I booked the class as a surprise birthday present for my partner and it was great - would definitely recommend Adam was a brilliant host and gave a short history behind each of the steps and materials - this made the class more memorable. We felt comfortable throughout the class to ask questions and love that we can take home the outcome - our terrariums!
Really lovely workshop held in the Botanical Boys own home which was an amazing oasis. I am not green fingered in anyway but we came away with new skills as well as a gorgeous terrarium!
Interesting workshop and friendly instructor!
A great two hours, very relaxing and instructive. Both my boys and I loved it! We are now watching over our quietly living terrari-a. The tutor was fun and encouraging. The location unique and a privilege to be in. Huge thanks to the Botanical Brothers and crew!
The perfect birthday present for my husband! We had such a fab afternoon in a beautiful space, and Darren was so informative and lovely. It was great to get our hands dirty and feel the soil and plants as we built our terrariums. I felt very proud of my creation and I would really recommend this experience.
it was a great afternoon, learning about plants and having fun.
This wasn't a fantastic experience. The hosts (literally, as the venue was their own home, which was incredible) was great. It's was a great mix of independent production and applied assistance meaning you felt the result was something you had created. Advice was platinum, but not forced. I would recommend this to anyone with an interest in greenery or plants. Something to do as a group or a couple. I would not have known about this if it were not for Obby. Top stuff!!!
The class was great, I would highly recommend and would definetly do it again! Really relaxing and informative with beautiful terraniums to take home in the end. The host was really welcoming and helpful. I loved the whole experience :)
Such a fun Masterclass! Adam was a brilliant teacher, we learnt lots, drank bubbles and listened to some questionable music :P My terrarium looks amazing in my flat. Will definitely do this again at some point.
Excellent class! Relaxing and really interesting. Definitely recommend booking it! :)
We had an amazing time. Adam (I'm sorry if you're name isn't Adam!) is so much fun and a great instructor!
Thanks so much for opening up your world to us Ben and Darren! I am going through a tough time at the moment and decided to do this on my own today. You both were so welcoming and created a really positive vibe for the whole group! You were informative on the local area, on the history of plants and terrariums and you certainly made yours and bens passion really shine out. You made us all feel so comfortable and gave us the confidence to just let our creativity flow that at the end all of our terrariums had their own personalities - I'm so attached already and am so motivated to taking care of this little world! I felt so good after leaving today, despite everything that is going on external to this, and everytime I look at my terrarium I'm reminded of the positivity, relaxation and happiness that you transmitted at this masterclass. I'll definitely be back like I said - and wish you both all the best for the very exciting future for the Botanical Boys ahead!!
The class was really good. Might be a good tip to say that they have a cat. My friend and I have pretty strong allergies so a heads up would have been nice. They were nice enough to give me some extra moss to put in the terrarium. The introduction was a little long~ but apart from that it was a good day out
It was a great Sunday afternoon spending at the Botanical Boy's house. I've learned the history of Terrarium, as well as the skills to make one by myself. I think everyone deserves a bit of time to focus (instead of using your phone), discover your creativity, and find your inner peace. "When you don't create things, you become defined by your tastes rather than ability. Your tastes only narrow and exclude people. So create. " - Jonathan Gillette Thanks Darren for offering me an unforgettable experience. Hope everything goes well in the future. :)
Had a great time at this workshop, Botanical Boys created a really friendly and relaxed atmosphere (Prosecco was an excellent touch). It was interesting to learn about the history of terrariums before we got stuck in to making our own. Really pleased with the terrarium I created, lots of different plants and decorative gravels to choose from to get creative, looks fab in my bathroom! : )
Very engaging and enjoyable session learning a little about the history of terrariums and then making our own. I would strongly recommend.
A fantastic workshop, surrounded by inspiring terrariums, and run by entertaining and helpful teachers. Thanks!
Best workshop we have ever been to! The guys are so kind, welcoming and supportive. Creating a terrarium with them was fun and relaxing in equal measure. We are overjoyed with our terrariums and will continue to treasure them. A very special experience in a very special place!
Had a great afternoon at my Terrarium workshop and am enjoying the fun and beauty of it everyday! Well worth learning and digging in to creating something beautiful! Thank you Botanical Boys!!
A very relaxing class with friendly teachers. Learned about how to construct a terrarium, so feel I could make another one by myself now.
Very informative and casual evening in their new space in King's Cross. The store is a pleasure to be in and provides loads of inspiration (that and the prosecco...) while making your own terrarium. Darren and Ben bring lots of enthusiasm to what they do and have created a really fun and unique workshop
Had a great time making a terrarium with the Botanical Boys. The setting - their botanical workshop in Coals Drop Yard - is really pretty and relaxing with lots of greenery around. We came away with lovely terrariums we are all proud of. Prosecco is also offered which is a lovely bonus! Would recommend this glass to anyone who likes plants, but particularly those who are rubbish at looking after them!
Really informative, excellent hosts! Really fun class with a beautiful terrarium to take home. So patient with all our random plant questions and the 30 day guarantee is a good reassurance of the quality of the teaching and products. Can't wait to do the Christmas wreath session!
Really informative and high value- would attend anything else the Botanical Boys plan!
Super super amazing! Very very interesting!
Great time. Great fun. Great experience!
Really fun evening. Darren was charming and entertaining. We got our hands dirty and walked away with a lovely terrarium.
Amazing workshop! Very informative about the plants / history and care, and loved my finished terrarium! Will be buying this workshop for friends.
Definitely worth the money! The class was inside Coal drops yard Samsung's showroom kitchen and we even had prosecco during the class! Terrarium workshop was really fun and enjoyable! Would recommend!
This class was amazing, had so much laugh and Adam was great, considering returning for more terrariums!
Amazing evening, so interactive and funny... the dinosaurs were amazing! Love my new addition
Absolutely excellent class - the teacher was engaging and funny, and clearly very well informed. We had a great time and we had such a laugh with him and made some terrariums we're really happy with!
Absolutely amazing. Not only had we the chance to create our own terrariums, we also got insight into how, when and where terrariums were first introduced to our society. The instructor was very knowledgeable, friendly and helpful. We really enjoyed the experience and hope to have a chance to participate in similar classes.
Had such a fantastic afternoon learning about the history of terrariums and then going on to make one myself. Ben was such a lovely and knowledgeable instructor. I'd definitely recommend this to my friends 10/10! Anthony
This was a thoroughly enjoyable session. Darren from Botanical Boys was friendly, funny and informative. Along with taking us through how to make the terrariums, he talked us through the history of how terrariums came to be and their role in international trade. We also learnt about after care for the terrariums and general plant care. I did the class with some friends as a gift for one of their birthdays - ideal present and great afternoon. The Samsung space and Coal Drops yard is also a great location.
Amazing workshop - so inspirational to grow and care for plants. Great venue and lovely atmosphere! Really made my day :)
Had a great time. it was engaging, fun, and educational. I love my terrarium!!
Very good!
My boyfriend and I attended the SamsungKK session on 2 November 2019 (13:00-15:00). We weren't sure what to expect, having been recommended by a colleague, but overall had a very enjoyable time. The session lead was friendly and approachable, and provided an interesting history lesson on the evolution of the terrarium. Champagne and water were also provided, which was a nice touch. The lesson itself was well instructed and very hands-on, with great scope for creative freedom. We were given clear instructions on how to ensure garden longevity and there was a wide variety and ample supply of materials on offer. The resulting terrariums were generally excellent across the board and most seemed to really embrace the experience. However, there were a few elements that detracted from the overall experience which The Botanical Boys may wish to address for future sessions. Predominantly, we found the venue to be very loud (open to the public) and considering terrarium-making is pitched as a relaxing and mindful experience, this was quite off-putting and felt more like a live event than a closed session. Matters were compounded by the fact the sound system was hit and miss (even switching off at one point) and at times it could be difficult to hear all instructions. The session leader also hinted that they do smaller lessons (20 people was quite a lot) where they serve tea, and it was a shame this refreshment wasn't on offer.
Amazing class! The guys that run this are so knowledgeable and made the experience so much fun. I came home with a beautiful terrarium and a massive amount of plant care tips. I highly recommend!
Fantastic! Would definitely recommend!
Class location
Kings Cross
Unit 111 Lower Stable Street
Coal Drops Yard
N1C 4DR
London
Gallery (16)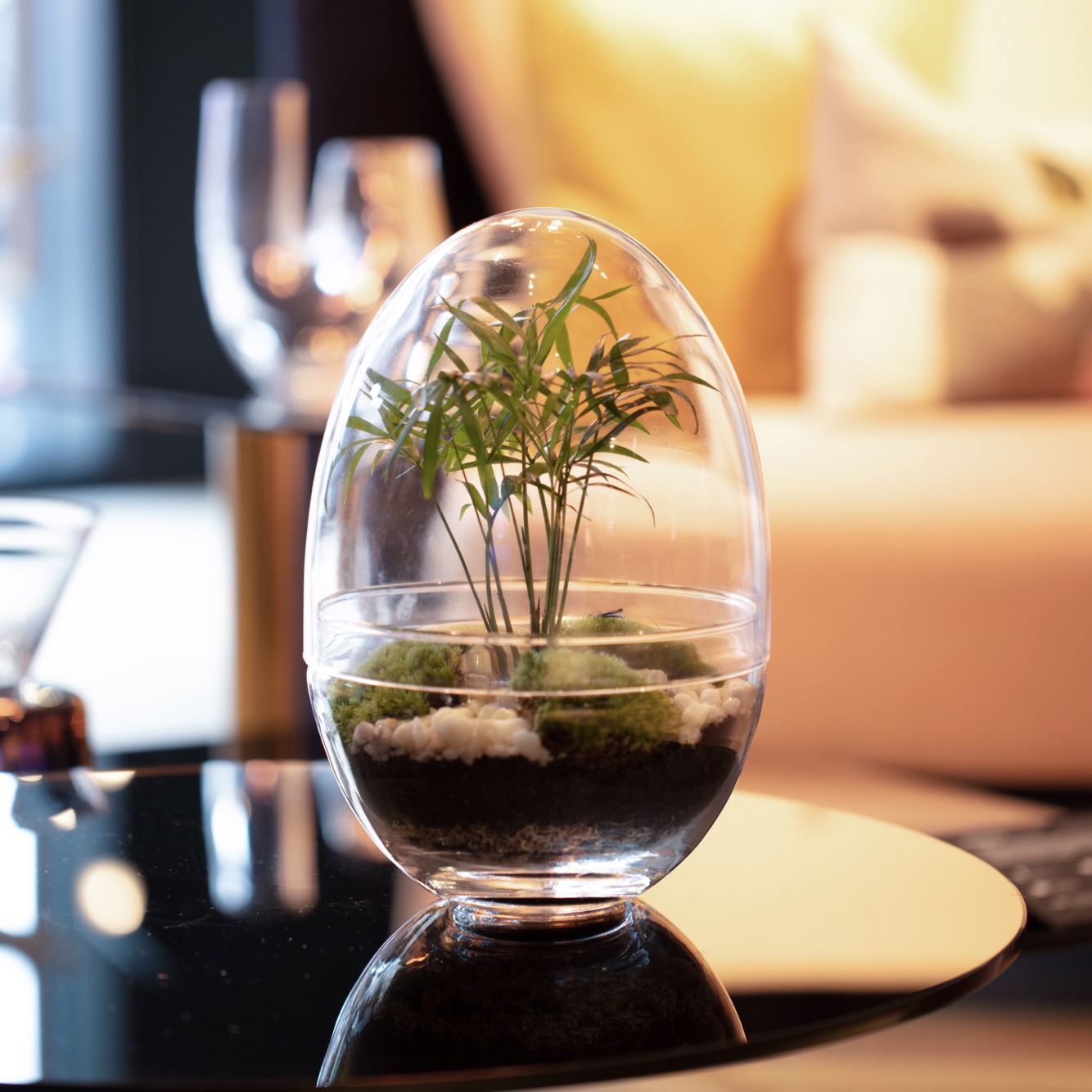 About your host, Botanical Boys
Ben and Daz of The Botanical Boys began their journey in 2009 when they took over a terraced garden in London Fields with a Japanese & formal English segments. Having no gardening experience prior, they really got stuck in and become members of the National Garden Scheme and opened up the space to the public for charity every year. They were selected for a spot on the BBC Great British Garden Revival program in May 2015 and were featured in a number of books and publications.
After a few assignments and holiday trips to South Africa and California it was succulents and their ability to be used in many structural forms, as with their sculpted Japanese and formal topiary English garden that led to a passion for creating designs on a smaller scale using air plants, cacti, succulents and a range of mosses creating beautiful terrariums.
Their love for plants and terrariums is infectious and people who join them on their workshops not only make a beautiful terrarium, but are taught about all the natural elements involved as well as provided aftercare instruction.
Notes
We provide hot and cold drinks throughout your class as well as a gift bag, plants, glass vases, education on making a terrarium and of course, lot's of fun and relaxation.
Flexible cancellation policy
Any class can be cancelled and fully refunded within 24 hours of purchase. See cancellation policy.