What you will do
Six session course
Daytime
The material is particularly suited to depicting both still life, the natural environment and its subjects. However, figurative compositions may also be illustrated. The Art Centre location is ideally situated for painting both the natural and the urban landscape looking out on the river and Kew Gardens. Each session will begin with a demonstration of the fundamental technique to be practised and followed by a more sustained study of a particular subject. All lessons will be set in context and the review and evaluation of the work of other artists will be considered in order to inform and expand the content of the session. You will learn how to use the beautiful transparent medium of watercolour. Initial studies will be drawn from natural forms and organic subjects. As the course proceeds you will be shown how to capture the natural environment and its subjects. You will become familiar with the principles & history of Watercolour painting;
12 Sep-16 Oct(10.30-12.30) Please note this will be an introductory session following which students will only be able to book in for the five week block (up to half term).
Initial session £35 (One off)
12 Sep(10.30-12.30)W1 Title: Laying and overlaying washes:
Wet into wet and wet into dry and colour mixing using two complementary colours only. Main exercise - A study of a cylindrical object Initial pencil study of the form, plus cast shadow, with particular attention to the accuracy of shape, line and proportion. Applying colour, wet into wet and wet into dry. The Aim will be to avoid hard edges and tide lines. (Ultramarine & Burnt Sienna)
19 Sep(10.30-12.30)W2 Title: Colour theory, developing a tonal scale, colour mixing, a simple composition: A colour wheel using the primary colours only. Complementary colours, Tonal scales of 1/2 colours. Main exercise: A study in colour of a piece of fruit/vegetable You will draw up in outline a simple composition of a piece of fruit/vegetable applying what they have learnt in the earlier part of the session.
26 Sep(10.30-12.30)W3 Title: Colour Light, shade and cast shadows : Working with a specific light source to create Light, shade and cast shadows, extending the transparency and use of colour, over-laying washes to achieve depth. Starter exercise: The principles of perspective using a cube placed on a mirror to create a reflection and an imaginary light source. Main exercise: Students will draw their cube and its reflection and then paint this using washes of different degrees of burnt umber, plus an imaginary cast shadow in soft green wet into wet. (With reference to Escher & Lesley Worth)
03 Oct(10.30-12.30)W4 Title : A group of angular, man-made objects set up as a still life. Building up an image using more than one object and developing a still life in watercolour. Starter exercise: Consideration of the composition and effects of perspective and foreshortening on the objects. A pencil study in preparation for painting. Main exercise: Painting the still life - We will consider the effects of the light source and the individual's eye-level in relation to the the composition. Simple perspective will be taught, in order to create a realistic representation of the subject.
10 Oct(10.30-12.30)W5 Title: A Still life composed of a mixture of vases, fruit/vegetables. Starter exercise-The principles of perspective using a cylindrical and spherical objects (with reference to Brunelleschi) Main exercise a still life - You will be encouraged to consider your composition and the spatial arrangement of the objects within the still life. In addition you will include the effects of the light source and the play of light and dark across the forms.
17 Oct(10.30-12.30)W6 Title: Creating an architectural composition, Starter Exercise: The introduction of resist techniques and application of watercolour, lifting out with a sponge, experimental techniques ie salt & bleach. Initial pencil studies from which one will be selected to develop and paint as a composition. Adding texture and effects. Main exercise: Having drawn up and made a start with the painting of the still life you will develop the depth of the tones within the composition, establish the surface and backdrop of your subject whilst aiming to complete the painting by the end of the session.
Did you know?
There are many experimental techniques that can be used with water colour and the spontaneity of the process can often lead to some very creative and unexpected results.
Obby Guarantee
We ensure quality. If your class doesn't reach your expectations, we'll give your money back.
I had a lovely time. Learnt so much in that short pace of time and felt very relaxed too. I'll definitely be back to finish my painting . Great studio and location
Reviews
I had a lovely time. Learnt so much in that short pace of time and felt very relaxed too. I'll definitely be back to finish my painting . Great studio and location
Class location
Brentford
40 High Street
TW8 0DS
Greater London
Gallery (8)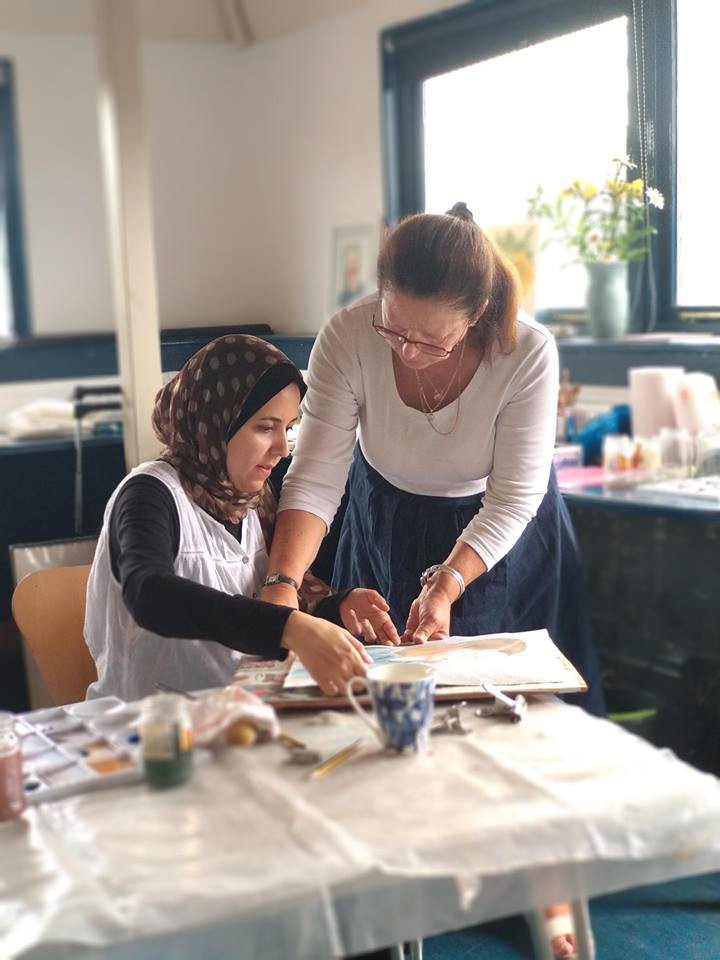 About your host, London Art School
Born in London, Sue studied Art at Harrow School of Art and DeMontfort University and was awarded a Royal Society Of Arts Travel Scholarship & Associate membership. She did props and set design and painting for major London theatres followed by textile design for the Scandinavian market at the legendary Bernat Klein Studios.
After six years as Head of Furnishing Textile Design at Liberty of London, Sue concentrated on her own art establishing the Hope Collection with her husband prior to entering into teaching art to adults and children. She was Head of Art and Head of History of Art at St. James Senior Girls School and is an OCR A-Level Moderator of Art and AQA - A Level History of Art Examiner.
Notes
Initially, customers will not be required to bring materials but as the course proceeds they are encouraged to buy their own brushes, paper and paints in order to practise and consolidate what has been taught in each session.
Flexible cancellation policy
Any class can be cancelled and fully refunded within 24 hours of purchase. See cancellation policy.