What you will do
Mandala is a Sanskrit word meaning the circle and reflects the universe and everything in it.
Mandalas are beautiful symmetrical creations that can be as intricate as you wish. Many of Ubie's students say they could never draw something as apparently difficult as that. Well, you can !! You just need to know the tips and tricks of how and therefore the course is suitable for all levels of ability!
Ubie has taught well over 400 students on our Mandala classes and everyone has produced a super piece of work to display and a sense of accomplishment of I drew that.... & of course once you have learned the techniques and got the bug you can produce many more lovely creations in your own time. : )
This class teaches you how to draw your own beautiful Mandala
You will create your own personalised Mandala on natural canvas
We use a straight edge, compasses, stencils and freehand drawing to build your creation
You will have free reign of the tools to create something beautiful, and exactly what your mind feels like creating
People tend to find their creativity is really amplified in this class, and you find the design comes naturally to you as you work
The class size is small, so there will be plenty of time for one to one tuition at your level of ability and confidence
These classes are intended to be relaxing, mindful and a charming creative escape from modern day life. You will feel a great sense of wellbeing from escaping the smartphone for a couple of hours and focusing your innate creativity
What you'll take away from this class
A 25cmx25cm canvas drawing on natural canvas suitable for display. You may choose to paint or colour this or leave your work in black & white
You'll leave with the skill and knowledge how to create your own personal Mandalas at home
These classes are intended to be a mindful, uncompetitive and creative experience, so we expect you'll leave the classes with a sense of achievement and a bigger smile than you walked in with
You'll receive our lovely guidebook as an aide memoir to help you carry on drawing at home
Select a class time
Sun 5 Apr 2020, 10:00am - 1:00pm
Sat 9 May 2020, 10:00am - 1:00pm
Sun 21 Jun 2020, 10:00am - 1:00pm
Sat 11 Jul 2020, 10:00am - 1:00pm
Sat 1 Aug 2020, 10:00am - 1:00pm
Sun 16 Aug 2020, 10:00am - 1:00pm
Sat 22 Aug 2020, 10:00am - 1:00pm
Sat 12 Sep 2020, 10:00am - 1:00pm
Sat 3 Oct 2020, 10:00am - 1:00pm
Sat 24 Oct 2020, 10:00am - 1:00pm
Sat 14 Nov 2020, 10:00am - 1:00pm
None of the dates work for you? Let the host know and you will be notified when new dates are added.
You will only receive an email from us if new dates are added for this class, you will not receive any marketing emails, and that's a promise!
Did you know?
Did you know Tibetan Buddhist Monks painstakingly create intricate, multi-coloured creations with sand that are then ritually destroyed on completion? This symbolically reflects the transitory nature of material life. Whilst, we won't be doing any ritual destruction in this class, it is still a meditative and creative process that will relax you. This is a time for your thoughts to flow through your body and onto the paper.
Obby Guarantee
We ensure quality. If your class doesn't reach your expectations, we'll give your money back.
Flexitime Class
This is a Flexitime class, which means the teacher can run this class around your schedule.
You need to be a group of 2
I need 1

day

notice
I am only available on Monday, Tuesday, Wednesday, Thursday, Friday
Southwark, SE19 1HJ
Time & Location
Select a date and location you want and your teacher will get back to you to confirm their availability.
Fantastic morning, really inspiring. Highly recommended. Have been drawings mandalas and loving it. Thank you for the opportunity. Anna
I enjoyed the Mandala Drawing class very much. Ubi gave me all the tools and knowledge to start practising my own Mandala designs and will definitely attend future classes.
Reviews
Fantastic morning, really inspiring. Highly recommended. Have been drawings mandalas and loving it. Thank you for the opportunity. Anna
I enjoyed the Mandala Drawing class very much. Ubi gave me all the tools and knowledge to start practising my own Mandala designs and will definitely attend future classes.
A great class where you end with a lovely piece of artwork, I still can't quite believe I managed to make something that looks so good! I've shown a number of friends who were all very impressed. It was a small class size so Ubie was able to give a lot of guidance throughout the class.
This was my first Obby class and it was incredible! Booked it for my boyfriend and myself - and we both thoroughly enjoyed the class. The teacher was incredible and made you feel so relaxed! I would highly recommend this class to anyone wanting to learn the Mandala Drawing - and this is coming from someone who cannot draw at all!!!
This is the best class I've ever done through Obby. The teacher is friendly, very knowledgeable and supportive, the venue is lovely, and the class size small.. I don't count myself as very creative, but the structure of the approach made it possible for me to make something I genuinely love, plus I have the skills to carry on drawing mandalas at home, with very little equipment. I've already bought a voucher for the class for a friend!
My daughter and I learned how to make a Mandala drawing, which could later be painted. Time went by fast once we started creating our own drawings. The facility was nice, the teacher, Ubie, very helpful, and we spent almost three hours using our imagination. The experience was very relaxing, and we came up with two drawings that we wouldn't have thought we could do! We also enjoyed spending some quality time together. Thank you.
Class was pretty good, nice venue.
I recently learned Mandala from Ubie , she is extremely talented teacher , I loved the whole set up and the venue was absolutely perfect for learning. Ubie was paying full attention and made sure everyone's need were dealt with lots of love and support. She has opened this whole big world of Mandala art to me, which I am ever so grateful. I would recommend her for sure. Can't wait to learn more from such an experienced artist.
I had a wonderful relaxing Sunday morning attending Ubie's workshop. I love art but haven't tried a new technique since attending college moons ago. Ubie is very friendly, encouraging and a great faciltator. She has a passion about what she teaches and this definitely has rubbed off on me-I'm booking in other classes and will certainly recommend her classes to others! I came away feeling uplifted, relaxed and inspired. Thank you Ubie!
Ubie and Matt were very friendly and welcoming and the class size was perfect. The instruction was clear and the help offered was constructive and encouraging. The class could have been just a little longer to give time to finish the mandala - but then, maybe mandalas are never really finished I would happily recommend this class.
I had a really lovely experience at this workshop. My friend and I received a warm welcome from the teacher Ubie and her partner Matt who were both very lovely. Teaching instructions and demonstrations were very clear and we passed a very pleasant and creative few hours learning how to create our own Mandala drawings. A lovely skill to have and take away, a mindful activity to do anywhere! I highly recommend trying this class with Ubie :)
A very enjoyable and informative class. I found the process relaxing and was amazed at what we all created. I was a little apprehensive about attending a class in someone's house but was made to feel very welcome and comfortable. The room was spacious enough for us all and I'd happily recommend !
Very nice and relaxing experience. I've learnt the basics techniques to draw a mandala and now I can go on by myself. This is more than I was expecting. Ubie and Matt are extremely helpful and welcoming. A pleasure to meet them. I definitely suggest this course.
An excellent class! Ubie was a great teacher and showed us exactly how to get started, and soon enough, our imaginations were running wild. By the end of the class, I had made something that I didn't think I could! Also, thanks to Ubie and Matt for making us feel welcome!
Lovely morning, Ubie and Matt were lovely. Feel I've learnt a lot and am inspired to keep drawing mandalas
A wonderfully warm and cozy setting, you know you are in for a treat from the time you walk in to Ubie's Mandala workshop! Her inputs and expert guidance help push your boundaries of creativity and design! Her ability to look at the unnoticed details of a design makes for a very interesting learning session! Highly recommended if you are looking to infuse some symmetric creativity in your lives, in a relaxed yet engaging environment! ✨
This was a fantastic experience. Ubie and Matt were incredibly welcoming and made me feel very relaxed and believing that I would be able to achieve a great Mandala design, which happened. I would certaily recommend Ubie as she has a fantastic way in making it all so easy and understandable and will book into another class at her venue.
This was a very friendly class. Initially I thought it would be a huge task to try to create a Mandala like Ubie's but with her guidance and step by step tuition my friend and I created a beautiful design each. We were given teas and and cofree throughout the morning and were not rushed at all. We bought some packs from Ubiedesign so we can create more mandalas at home. These were well priced and beautifully boxed. Ubie and her husband Matt were very welcoming and an interesting couple. This was a great way to spend the morning. We drove from Sevenoaks in Kent especially for the class and will be booking for the sitting class and/ or watercolour too.. After the class we had lunch in a lovely vegan place in East Dulwich - really nice place. I recommend this class for anyone creative. You do not need to be artistic at all as stencil templates were provided. I felt this was a good quality class and well worth the money as we each took home a canvas of our design.
I went to a Mandala drawing class and it was fantastic! Ubie is an inspiring teacher who gave us the knowledge and skills to create our own piece of art. I am no artist, but it's amazing to come out of a class feeling fulfilled and pleased with the work that you produce. I would definitely recommend!
I've never drawn a mandala before & was looking forward to learning something new. I found the whole experience very relaxing, meditative & fun. Ubie was very warm & welcoming as was her partner Matt. Ubie was very patient & helpful, always giving positive feedback & guidance when needed. I highly recommend the class & I'm looking forward to signing up for more of her classes
Absolutely fantastic class. Ubie and Matt were very kind and welcoming - they have a lovely little house which was perfect for the art class. I learnt lots of skills and came away with a mandala on a canvas - I am very proud of what I achieved. I would like to thank Ubie for her guidance and tips - she is a fantastic teacher! I will be back again for future classes. My sister and I had a great morning and I will continue to do Mandala drawings at home!
lovely and relaxing! highly recommended
I had drawn some very basic mandalas before so was amazed at how much more complex I was able to make my firstly proper one with Ubie. She was an excellent teacher, providing simple tips and encouragement. The small size of the class meant we all got help when needed, so you never felt stuck for long. Matt and Ubie were also very welcoming and provided us with refreshments throughout! I will be definitely booking another session with UbieDesigns soon.
Class location
This workshop takes place in multiple different locations. Click on SEE DATES to see which workshop takes place where.
Gallery (8)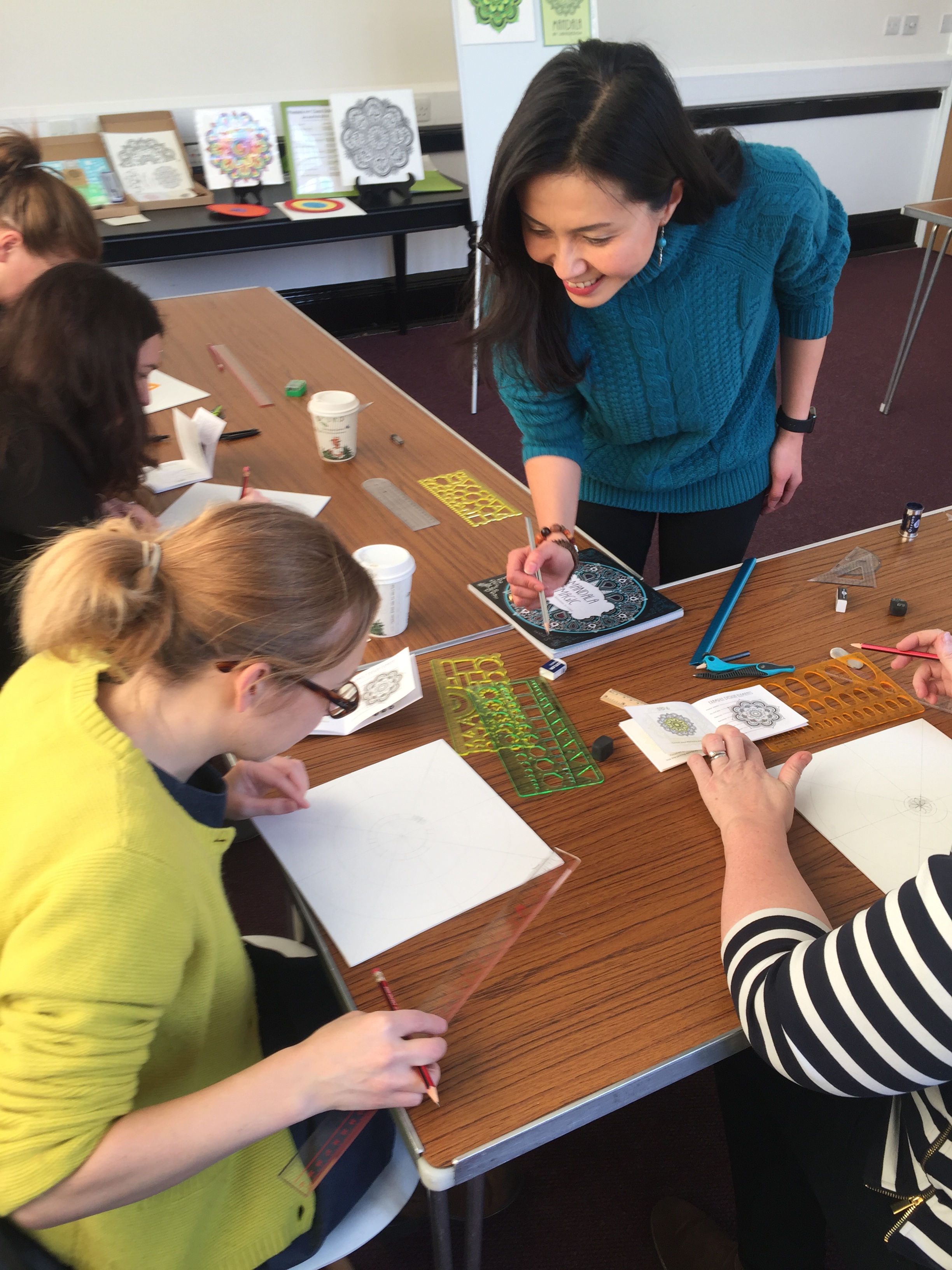 About your host, UbieDesign
UbieDesign was established by designer, Ubie Chan in London in 2017.
Ubie hails from Hong Kong and relocated to the UK in 2017. She is a qualified graphic designer and ran an art and craft studio and shop in Hong Kong for many years.
Ubie's classes in Mandala Drawing and Painting have been a 'big hit' with our students being amazed in the beautiful work they can create in a short period of time in a very relaxing, mindful and creative environment. We have recently launched our new class Mandotla and more will be coming in 2019!
Ubie's mantra is "Anyone can draw!!" and she will demonstrate this in a smaller class environment (typically no more than 8 students) with lots of time for 1-2-1 tuition at your level of skill and confidence / experience level in drawing and art!
Notes
Everything is included. This class is 'come as you are'. Whether you have come after a hectic week at work or a busy time watching the kids, we'll get you in the right mindset and help you create something beautiful During this class, you will create a Mandala drawing. You will be able to paint it yourself at home or why not come along to one of our complementary [Mandala Watercolour Painting classes] https://obby.co.uk/classes/art/painting/mandala-watercolour-painting-class-1516034158 and colour your work there or paint one of our exclusive designs
Age Requirement
8
All students under the age of 16 must be accompanied by a parent/guardian.
Flexible cancellation policy
Any class can be cancelled and fully refunded within 24 hours of purchase. See cancellation policy.