Making sustainable and everyday sushi with the girls from Gills Gills Gills
Our latest Obby project is a sushi recipe from Gemma and Becky from Gills Gills Gills. These ladies have a blog where they encourage people to eat more sustainable fish. They have brilliant accessible recipes, tips tricks and recommend the best places to eat out. They went on the Sushi Making Workshop with Greenwich Pantry and have shared with us a recipe they have since practised and perfected!
We recently went along to a sushi class with Obby at Greenwich Pantry and have since been refining our skills at home. We picked up so many tips and tricks from our teacher, who was really informative and helpful. Ever since we have been practising our sushi skills at home and we are definitely getting quicker! It's harder than it looks.
We've put together a recipe for you to try, that's perfect for beginners. If you want to do something different, healthy and impressive for dinner, you'll love this recipe. We tried to make it as accessible as possible, especially if you've never made sushi before. You can, of course, head to a fishmonger and get sushi grade fish but life is busy and this isn't always possible so below we have suggested a couple combinations using everyday ingredients. Smoked salmon trimmings are such a great bargain, we picked up a big bag for £4 from Rockport Fish (it was marked sustainable), and it's great to make a meal using something that would otherwise be scrapped.
Kitchen equipment you will need:
Bamboo mat
A very sharp knife
Cling film
Ingredients (makes 32 rolls):
400g sushi rice (uncooked)
25ml rice vinegar
8 sheets of nori
1 can of msc certified tuna
100g smoked salmon trimmings - make sure it's sustainably sourced
½ a cucumber
1 yellow pepper
Pinch of sesame seeds
Soy sauce for dipping
Optional - wasabi paste and sriracha for spicing up your sushi!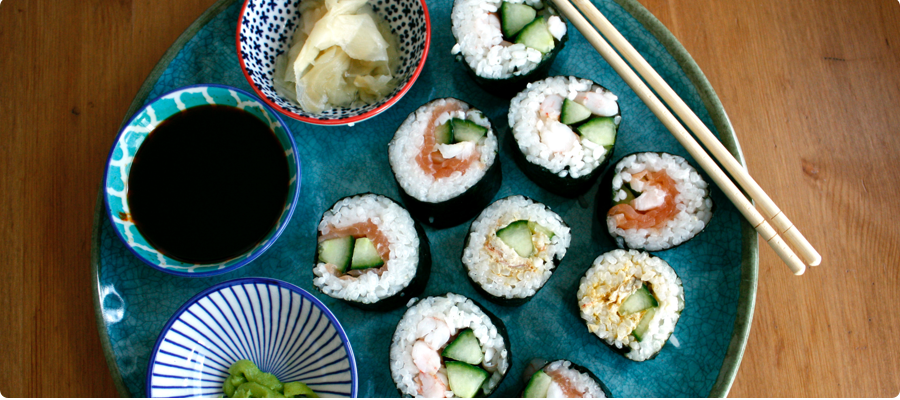 Method:
In our sushi class with Obby our teacher used a rice cooker to cook his sushi rice (which we are now wanting very badly!) but it is possible to cook in a pan also. It's so important to wash your sushi rice - make sure you rinse it in water until the water runs clear. This will make the sushi manageable when you come to roll it.

Cook the rice according to the pack instructions and remove from the heat. Add the rice vinegar, stir and then quickly cool. A tip from the class was to lay the rice out on a wooden board or your worktop so it cools much quicker.

Whilst the rice cools chop up your vegetables. You want the cucumber and pepper to be in long thin strips so they work in the roll (chunks will be very tricky!). Remove the tuna from the can and mix well so again it doesn't come out in chunks into the roll which will be hard to work with.

Now it's time to make your sushi. Lay out clingfilm on your worktop and then place the bamboo on top. To make hosomaki rolls (wrapped in nori) you will need to lay the nori out first, before adding rice. It's tempting to use a huge amount of rice here - Gemma did on her first try during the course - but as our teacher showed us a little goes a long way. If the rice is too hard to handle dip your hands in a bit of water which will help with the stickiness! Leave 1cm free at the top and bottom, so that the roll can be closed later.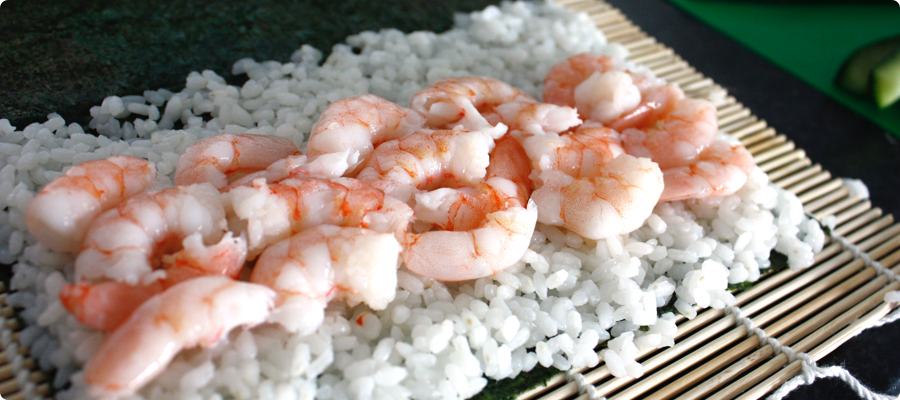 Once you have a thin layer of rice you can add the wasabi if using, before you add the additional ingredients - feel free to use whatever combination you like.

Once your nori has been layered with all of your designated ingredients it is time to roll.

Carefully and evenly roll up the nori with the help of the bamboo mat by applying light pressure away from your body.

Sprinkle one end of the nori sheet with a few drops of water; then place the other end on top and close the roll tightly.

Sprinkle one end of the nori sheet with a few drops of water; then place the other end on top and close the roll tightly.

You can now either chill the rolls for later or, using a very sharp knife, cut each roll into 8 rounds. Wet the knife between slices to stop the rice from sticking. A great tip we picked up from the class was using the whole length of the knife, rather than going back and forth. This helps to keep the roll together as the friction from moving back and forth can make it fall apart.

We serve ours with soy sauce and sriracha, alongside some pickled ginger but you can tailor this to your taste buds.
Sushi is perfect, as once you've gotten the hang of it, it looks beautiful and a large sharing platter, for when friends visit, or you are looking to impress your other half for dinner. We hope you love this recipe, and if you do we'd love you to check out our website. At Gills Gills Gills we encourage people to eat more sustainable fish and try to banish the ethos that fish can only really be enjoyed whilst dining out.
Gemma and Becky (The Gills Gals)