We sat down for a cup of tea and some biscuits with Jodie and Jordanne in their gorgeous studio in Battersea where they host their Obby workshops under the name, J&J Workshops. Jodie and Jordanne are the founders and the J&J behind the name. J&J Workshops are hosting silver jewellery making classes with Obby giving people the opportunity to create their own jewellery design from scratch, under their expert guidance of course! See their workshops here. They are both independent jewellery designers, who specialise in Silversmithing, and we wanted to talk to them about why they started J&J Workshops as well as find out what teaching means to them.
How did you both meet?
Jordanne: We met whilst studying Material Practice at Brighton University. We actually studied a whole range of materials, like ceramics and metal but both loved working with silver.
Jodie: We both did our own things after we graduated but we always stayed in touch – I remember Jordanne sent me this amazing parcel from India when she was doing a residency there – at that time Jordanne had started her own jewellery business & I was teaching. My own jewellery line is a relatively new thing as I set up a business around the same time that we started talking about running workshops.
Tell us more about your own, independent jewellery lines
Jodie: I make jewellery under the name of J.M.Studios, I create with the intention that my pieces could become everyday essentials for the wearer. That's my wish.
Jordanne: I make and sell Jewellery from my studio in London. Each piece is handcrafted in sterling silver & I often use 9 carat rose gold for details. My range is just under my name, Jordanne Cliffe.
So how did J&J Workshops become a thing? When did you merge together to start teaching?
Jordanne: It was around 5 years after graduating that we talked about running jewellery-making workshops together. As soon as we started thinking about it, that was it really, wasn't it?
Jodie: I think what brought us together was that we both really wanted to use our individual teaching experiences in new ways, & work as a team to build something.
Jordanne: My own teaching experience had come from my job at Fine Cell Work, - which is a social enterprise - teaching stitching and textiles and HMP Wandsworth and most recently to ex-prisoners in the Hub Workshop in Battersea. FCW has an amazing post-release program – I think doing this allowed me to see how immersive learning a new skill can be. It really opened me up to thinking about new ways that I could be teaching.
What is your favourite class to teach and why?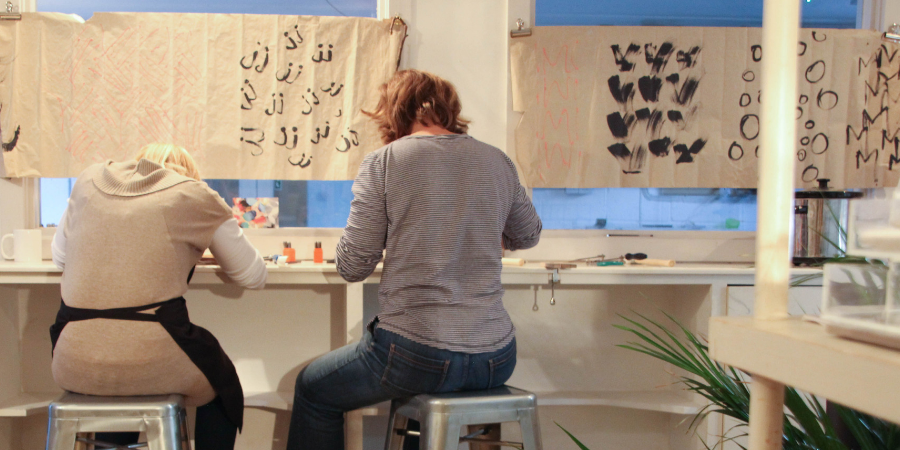 Jodie: I like elements from all of the classes that we teach! The stacking ring workshops have been really fun & I love seeing students realise that they can actually make a ring in two hours.
Jordanne: The wrap ring workshop is a full day so it really allows the students time to get stuck into the design process. So many of the outcomes we really couldn't have predicted! Every single ring has been completely different.
What have been some of your biggest accomplishment to date? What makes you proud?
Jordanne: Being a panellist at IJL 2018 seminar, Making it Better: Mindfulness, Wellbeing & Creativity, was one of my biggest accomplishments to date. It's amazing to see the jewellery industry take an active interest in Wellbeing. I'm really proud of both of us for creating something from nothing. It's been pure passion for making and teaching that has got us this far. I am proud of what can happen when you work together, we would never have got this far individually.
Jodie: That's so true. It's really grounding to be able to support each other whatever's happening. I feel very lucky! The thing I'm most proud of is starting J&J workshops and my own jewellery line at the same time, and navigating them both. I feel like my biggest achievement is a work in progress!
Speaking of Works in progress - What advice would you give someone who is looking to set up his or her own business?
Jordanne: Surround yourself with people who will encourage and support you. Make sure your business is your passion - that will help you get through the harder times.
What's been the biggest surprise since running the workshops?
Jodie: I think in some ways we overlooked that in starting these workshops we were providing a creative & supportive environment in which people have been - and are - really open and honest. We never really anticipated that so I would say that's a lovely surprise for us.
Who inspires you in your day-to-day life?
Jordanne: The people that I teach inspire me every day. I love it when people surprise themselves by creating something beautiful in such a short space of time.
Jodie: On that topic - Jordanne inspires me in my day-to-day life! She's so passionate about each of her jobs.
Jodie, tell us a bit about your day-to-day. How has teaching workshops helped you with your own personal health?
Jodie: Starting J&J workshops has been hugely grounding for me as my health has fluctuated over the last few years. I've found teaching workshops to be eye-opening in ways I really didn't expect. I'm currently reading more about our bodies' biological & physiological response to social connectedness, & it's blowing my mind a little! That awareness definitely feeds into my day-to-day.
What does it mean to you to be able to create?
Jordanne: It's what gets me up in the morning! Even after a long day at work, the fact that I get to come back to my home /studio each night and continue to make is really amazing to me.
Any exciting plans for the coming year?
Jodie: We want to do all the things! We are so excited to start working with charities, that's a really big one on our list. We are currently working with Sussex-based charity Southdown, who deliver support & recovery services to adults managing significant mental health challenges. We'll be providing a low-cost workshop at one of their Recovery Centre's. This is something that we hope to do more of as we feel very passionately about helping others through engagement with creative activities. We've got plenty more workshops planned too. Just more of everything, really.
J&J Workshops run their silver jewellery classes with Obby. They have ring making, decoration making and earring classes for beginners to try their hand at silversmithing, and walk away with something wearable, that they have created! To find out more about their classes, visit their school page on Obby.