Written by Beth Gill, one of our Obby Insiders. Insiders review all new classes to make sure they are as extraordinary as we intend them to be, so you know you are always getting a great experience when buying from Obby.
This class was exceptional! I decided to do this class because I had never done anything like it before, and I absolutely loved it. I'm so pleased I decided to do it in the end. I was learning from Aimee, who is clearly an extraordinarily talented artist, in the very studio she works in. The venue was really cool, a huge industrial conversion filled with artists studios of all shaped and sizes. Aimee had very much made it her own, she even had her own little tea and coffee making station. My class was actually a one-on-one, but it wasn't awkward at all, as Aimee herself is really personable and the art is completely all-consuming. I went in a complete, disastrous beginner. I knew nothing about stained-glass at all, other than what I'd seen in the odd church here and there.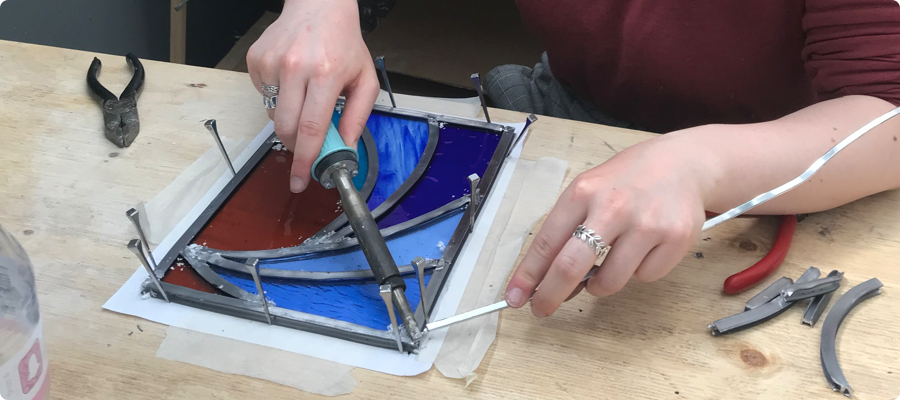 Aimee took the whole thing in her stride, even when I revealed I hadn't pre-planned my design. I wanted to steer away from the chosen colours she'd laid out as well, but she made an effort out find me some extra pieces in different colours and textures, so that I had exactly what I wanted. I really fell in love with the whole thing was when Aimee told me that my stained-glass window would last forever. The thought of having something that I've made, passed on to my kids and grand-kids made me realise the investment was well worth it! I also loved the fact that now, when I see a stained glass window, I'll look at it so much differently, looking at how they composed it.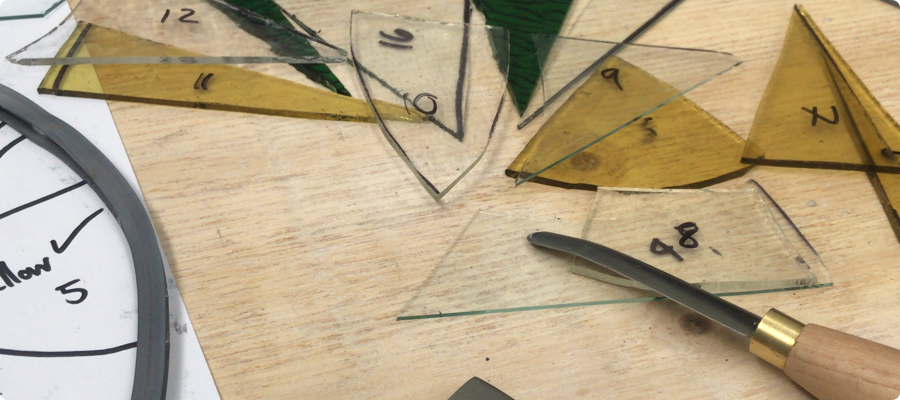 Aimee informed me on some history, she told me all about the commissions she has done and told me a great story about the man she learned the art of stained-glass from in Scotland. She was clearly really passionate about it, and it really rubbed off on me in a way I wasn't expecting! A really brilliant teacher. My finished piece is sat pride of place on my potting shelves outside, it looks glorious and on a sunny day really stands out in my garden! I absolutely love it. Thanks Aimee - and to anyone thinking about going on this class - you have to do it!
If you'd like to try this class, or any other of Aimee's classes, check out her school page for a full timetable of classes.